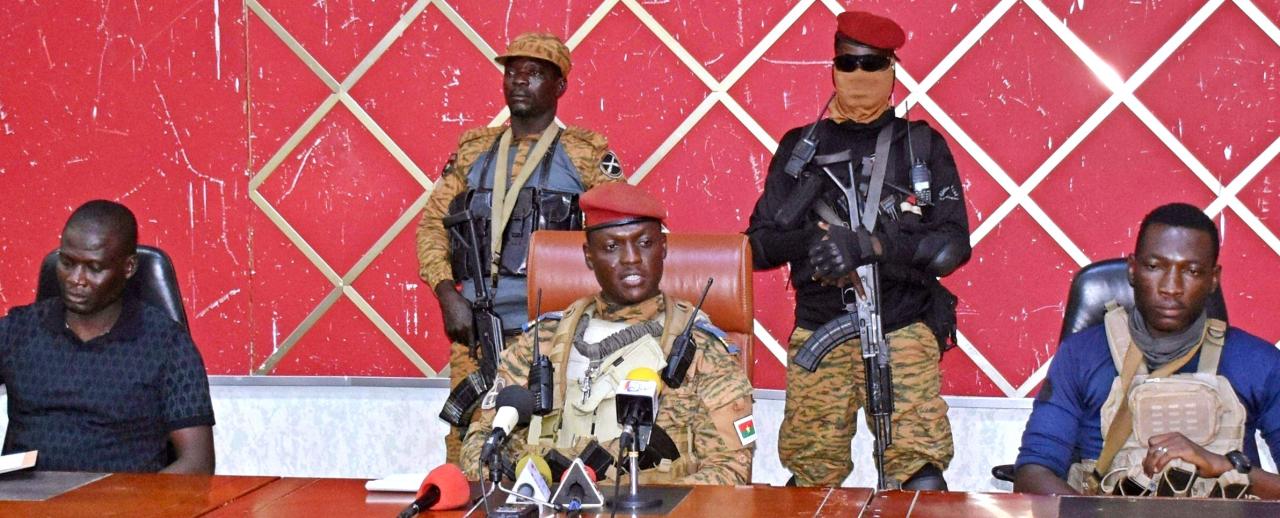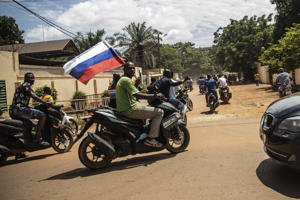 © Sophie Garcia/AP Supporters of captain Ibrahim Traore wave the Russian flag in the streets of Ouagadougou, Burkina Faso, October 2.
This month's US-Africa Leaders' Summit brought leaders from across the continent to DC for several days of activities, culminating in the announcement of America's $55 billion financial commitment. This unusual level of attention to African affairs points to recent developments in relations between the continent's fast-growing markets and the United States, which lags far behind China in terms of investment and ownership in Africa. It also encourages us to reflect on what we have learned from and about Africa this year.
Coups and conflicts make headlines
Conflict and political instability across the continent continued to dominate the headlines this year. There have been six successful coups in Africa since 2020. The political analysis we publish here at TMC includes Kristen Harkness' views on the 'coup epidemic', while Erica De Bruyne and Maggie Dwyer explain how this wave of coups in Africa differs from previous ones. ie warlords who come to power through coups are now more likely to turn to elections.
Attempted coups have often had mixed results, and removing military leaders from power to restore civilian rule can be difficult. Dwyer's analysis also helped us understand how the coup in Burkina Faso drew on broader grievances within its own ranks to successfully seize power. Jory Breslavsky and Madeleine Fleischmann discussed the possibility that ECOWAS, the West African regional bloc, could help the country return to civilian rule. And Aoife McCullough answered a big question: why coup supporters in Burkina Faso were waving Russian flags.
Don't miss out on TMC Mining! Subscribe to our newsletter.
Joseph Waldens explained what the failed coup attempt in March meant for Guinea-Bissau politics. And Salah Ben Hamu discussed the (slight) chance that the Sudanese military leaders would resign.
While the end of 2022 brought tentative good news of a cessation of hostilities in northern Ethiopia, the impact of the war on millions of civilians will continue for years. Lauren Carruth and Lahra Smith examine the causes of Ethiopian flight abroad and the impact of irregular migration on women. Sally Sharif researched the most effective (and least) effective ways to demobilize and reintegrate Tigrayan soldiers into civilian life.
After releasing the findings of the investigation into the abuses at the UN camp in South Sudan, Audrey Comstock said punishments for those who commit sexual exploitation and abuse in UN missions are rare.
But the 2022 TMC articles spoke much more.
Through our partnership with Afrobarometer, a pan-African research network that conducts representative surveys in three dozen African countries, TMC has published many articles on the opinions of ordinary Africans. For example, on the eve of the recent summit of African American leaders, Joseph Osunko, Carolyn Logan and Brian Howard analyzed the main problems and priorities facing Africans: unemployment and government mismanagement. Afrabarometer analysts also wrote about citizens' skepticism about the police, their calls for governments to deal with climate change, and problems with access to clean water and COVID subsidies.
The long-term effects of the coronavirus pandemic and the Russian war in Ukraine have hurt African economies. To boost domestic revenue, Ghana's president announced a new "e-tax" – a tax on mobile money transactions – and Richard Aidu detailed the political debate surrounding the move. George Bob-Billiard and Rachel Sigman describe how Ghana's economic crisis is changing its politics.
Kathleen Klaus and Jane Manga Ungar released a major TMC clarification ahead of this year's Kenyan elections. Priska Yost and Ellen Last explain what vote buying is, where it thrives, and how we can reframe our thinking when the goal is to advance democracy.
Professors: Consult all TMC Advanced Thematic Guides.
New books on African politics
Along with a wonderful group of volunteers, we reviewed 17 books for our summer reading series, which continued into the fall thanks to an unfortunate bout of Covid. All reviews appear in our latest review, which examines three books analyzing migration and asylum policies.
Books in late 2022 that we have yet to review but recommend include Olufemi Taiwo's Against Decolonization: Taking African Agency Seriously, Keith Wehorst's The Origins of Activist Political Ambition: The Opposition Candidate in African Authoritarian Regimes, and Talking and talk "Holly Hanson. Being Heard: The Quest for Good Government in Uganda, circa 1500-2015". Also learn more about Emmanuel Balogun's new book, Regional Building in West Africa, in this interview with Kim Yi Dion.
Special thanks to Robtel Neochai Paley, whose book Development, (Dual) Citizenship and Its Grievances in Africa: The Political Economy of Belonging to Liberia received the Best Book Award at the Africa Policy Conference 2022. Felicity Turkmen presented it to TMC in 2021.
Explanation of the new West African regional peacekeeping force
Other things not to miss Will be released in 2022
Here are some things we found interesting and informative in addition to TMC's analysis and articles on Africa.
TMC has a tradition of finding the political aspects of the World Cup and we regret not publishing this excellent essay by Hisham Eidi. Through the lens of the Moroccan team – the first African team to reach the semi-finals of the World Cup – Eidi's wonderful article published in L'Africa è un Paese spoke to us about African migration, 'Third World Solidarity ' and identity.
Nanjala Nyabola wrote a powerful essay in which she called Kenya's 2022 elections boring and instead emphasized the importance of building and cultivating democracy on a daily basis.
The complimentary weekly electronic newspaper, The Continent, is a must. It begins by addressing the political factors behind the energy crisis that has often left many South Africans without power for hours, sometimes days.
If you missed The Woman King, a historical action thriller about a military unit in the West African kingdom of Dahomey, check out this interview with Leonard Wancheken, the film's official historian.
We also encourage you to subscribe to the This Week in Africa newsletter, which covers democracy, development and daily life on the continent. Jeff Paler and Phil Dube also edit special issues, such as this excellent collection of analysis published ahead of Kenya's elections this year.
TMC information around Africa will return after a short hiatus in 2023 – be sure to subscribe to our mailing list to stay informed of our plans for a relaunch!
Will military coups wipe out democracy in West Africa? | inner story