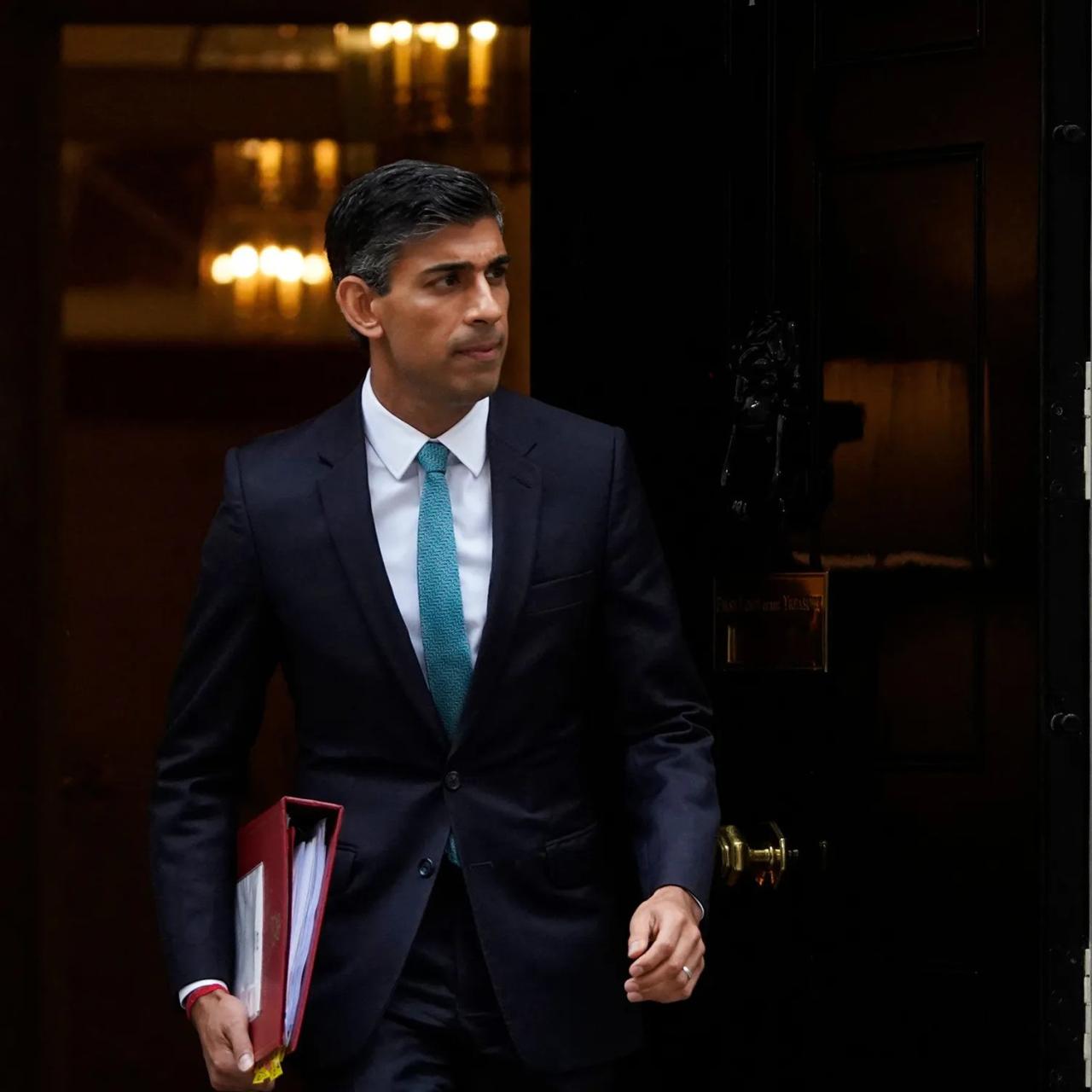 Sir Keir Starmer accused Rishi Sunak of being "completely misled" by his small boat policy as they squabbled over the Prime Minister's questions.
The Labor leader said the government's latest asylum proposals were "more talk, more shenanigans, more broken promises".
But the Prime Minister defended the plans, saying: "Stopping the ships is not just my priority, it's the people's priority."
He accused the Labor leader of being "just another left-wing advocate standing in our way" against efforts to tackle the issue.
Controversial new proposals to tackle crossing the English Channel, unveiled by Home Secretary Soela Braverman on Tuesday, would result in asylum seekers being removed and barred from returning if they entered the UK illegally.
The Illegal Immigration Bill has caused an uproar in the House of Commons and beyond, critics are calling it "unworkable" and will desert thousands of immigrants and prevent them from claiming British citizenship.
The UN refugee agency called on parliamentarians and colleagues to block the "profound" plan, while British rights group Amnesty International said it was nothing "fair, humane or even practical", calling it a "shocking new low".
Defending the proposed law at a press conference in Dover on Tuesday, Sunak vowed to deport migrants who entered the UK illegally "within weeks".
The government is likely to face legal challenges over the bill as it is accused of failing to fulfill the UK's obligations under the European Convention on Human Rights (ECHR).
PMQs begin at 12:00 p.m
11:39 am , Lydia Chanteler Hicks
Hello and welcome to the Evening Standard live blog.
We give you everything you need to know as Rishi Sunak faces MPs on PM's questions amid mounting excitement over the government's plan to tackle the small boat crisis.
Stay tuned in for the latest updates throughout the day.
What is the Illegal Immigration Act and why is it controversial?
11:48 , Lydia Chanteler Hicks
Home Secretary Soella Braverman announced in the House of Commons on Tuesday that the Illegal Immigration Bill aims to crack down on people crossing the English Channel to Britain in small boats.
Under the controversial new system, those who entered the UK illegally within the first 28 days will be held without bail or judicial review pending deportation.
The UK is only taking in a number of refugees set by Parliament, who can use the new "safe and legal avenues" put in place by the government.
Under the new rules, which critics have called "immoral and impractical", Channel migrants will be expelled from Britain, barred from returning and barred from applying for British citizenship.
Hear the Evening Standard Politics Editor, Nicholas Cecil, explain the law and explore the potential political implications in our The Leader podcast.
Here you can also read all the details of the invoice.
Prime Minister's Question Time begins
12:05 Lydia Chanteler Hicks
PMQs are currently pending in the House of Commons.
Opening for Mr Sunak on International Women's Day, she said: "At home we are making great strides to ensure equal opportunities for women, such as B. Mandatory reporting of wage discrepancies and the Domestic Violence Act.
"And internationally, today we are launching a new strategy for women and girls that puts them at the center of everything we do."
Rishi Sunak says he will release his tax returns "very soon".
12:08 , Lydia Chanteler Hicks
Leeds Labor MP Richard Bergon first urged the Prime Minister to release his tax return as he had previously promised.
He asked: "People want transparency in our politics… Why hasn't the Prime Minister published his tax returns?"
Mr Sunak responded by saying: "As I have already confirmed, I will publish my tax returns and that will be very soon."
Union leader questions PM's plans to tackle illegal immigration
12:14 , Lydia Shantel Hicks
Labor leader Sir Keir Starmer questioned the Prime Minister about plans to tackle illegal immigration.
"In the last decade, this government has introduced five anti-illegal immigration schemes, five of which have failed utterly," Sir Keir said, addressing the Prime Minister on PMQs.
"The problem gets worse with every new step. The home secretary said the public was tired of tough talks and inadequate action. Would [the Prime Minister] agree with his assessment of the performance of this government?"
"We will ensure that it remains a good and decent country," said the prime minister
12:16 , Lydia Chanteler Hicks
Responding to a question from the Labor leader, Sunak said Sir Keir "didn't realize there was a global migration problem".
"We are not alone in fighting these problems and as their numbers increase across Europe, we have come up with new plans," the prime minister said.
He added: "We are determined to ensure that this country remains kind and generous and that it does so fairly and legally." That is why we will break up criminal gangs.
"We have announced new deals with Albania and France, stricter enforcement of immigration rules and now new laws making it clear that if you come here illegally you can be quickly arrested and deported."
He then accused the Labor Party of pursuing a policy of "open immigration and unlimited asylum".
Sunak describes Starmer as "another left-wing lawyer who gets in our way" when they face each other in the House of Commons.
12:34 , Lydia Chanteler Hicks
The Prime Minister called the Labor leader "just another left-wing lawyer standing in our way".
His comment came as Sir Keir Sunak pressed figures and asked him how many illegal immigrants were deported from the UK last year.
"Mr. President, when I was presiding over the trial … the conviction rate for people smuggling was twice as high as it is today," he said.
Defending the government's progress on the matter, Sunak said: "As a result of the plans that we have put forward, we have almost doubled the number of people who have returned this year… precisely because of legislation passed by the Conservative government last year." Year. Year arrest more than twice as many as previously detained, 397 people in the past six months.
Sir Keir then accused the Prime Minister of not answering his question.
"He knows the number. He claimed it was 21." "Twenty-one people out of 18,000. What happens to the rest? They live in hotels and dig for months at taxpayers' expense.
"Last year he promised to stop the hotel farce. But because of the prevailing chaos, there are thousands of people who cannot apply for asylum and cannot be deported. So where do you think they're going?'
Union leaders call PM 'completely misguided'
12:39 , Lydia Shantel Hicks
Sir Keir accused the Prime Minister of being "completely delusional" about his boating policy.
"Last year he stood there and said the same thing," he said. "We said it wouldn't work, they passed the law and the numbers went up. Totally misled."
"He can't say where they're going to come back to. They can't say how they're going to get people back. He can't say when they'll fix the mess."
Rishi Sunak says "hundreds" have been sent back to Albania
12:41 , Lydia Chanteler Hicks
The Prime Minister has dismissed claims by Sir Keir Starmer that the government had failed to strike deals with other countries that would repatriate illegal migrants.
"We have repatriation agreements with India, Pakistan, Serbia, Nigeria and now especially Albania where we are returning hundreds of people," Sunak said.
"Our position on this is clear: if you come here illegally you cannot seek asylum here, you cannot access the modern system of slavery and you cannot create fake people. . claims to rights".
He questioned the Prime Minister about what the new law would mean for sex trafficking victims.
12:45 Lydia Chanteler Hicks
The leader of the SNP Westminster asked the Prime Minister if the Illegal Immigration Act meant women trafficked to the UK for sex on a small boat would not enjoy the protections of modern slavery.
Stephen Flynn said in the House of Commons: "On International Women's Day I can ask the Prime Minister to reconfirm that under his proposed new asylum laws, women who are trafficked by a criminal gang on a small boat bound for Britain will not receive protection under our modern slavery laws ?
Rishi Sunak replied: "Just because we want to focus our resources and compassion on the world's most vulnerable people, we need to take control of this system, make sure we control our borders, make sure our system and resources don't." are overwhelmed so we can help those who need it most.
"There's nothing right, there's nothing pitiful about maintaining a system where, as we've recently seen, people die during these transitions. That's wrong. And our plans don't allow for that."
'Victims of sex trafficking will not be protected,' says MP, calling government plan 'an absolute disgrace'
12:47 p.m. , Lydia Chanteler Hicks
Stephen Flynn asked Rishi Sunak if his government was inspired by "Nigel Farage or Enoch Powell".
The leader of the SNP Westminster told MPs: "I would take that as a yes from the Prime Minister that women who are victims of human trafficking are not protected by our modern slavery laws. A complete and utter disgrace."
But that may come as a surprise, but it shouldn't necessarily be because it's the Tory government that has been talking about the raids for the past few months.
"Literally yesterday the Tory Government said 100 million people could come to these beaches and this Tory Government said this morning the number could be in the billions. Complete and utter nonsense.
"May I then ask the prime minister whose government is inspired, Nigel Farage or Enoch Powell?"
The Prime Minister called the migration crisis a global problem
12:49 Lydia Chanteler Hicks
Rishi Sunak said the number of 100 million asylum seekers came not from the government but from the UN.
In response to SNP Westminster leader Stephen Flynn, the Prime Minister said: "What nonsense.
"Actually, the figure of 100 million … doesn't come from the government, it comes from the UN, and it shows the scale of the global migration crisis that the world is facing, so it's right that we act because if we don't." do, the numbers will continue to rise.
They have more than quadrupled in size in just two years. This is a sign of the future and our system will continue to collapse.
"If that happens, we will not be able to help people who desperately need our support, generosity and compassion."
The former Conservative minister has criticized the UK-US extradition deal
12:51 , Lydia Chanteler Hicks
A former Conservative minister has called the UK-US extradition deal a "distortion of justice" that needs to be fixed.
David Davies told the House of Commons: "Since it came into force in 2003, the US has extradited 83 people to the UK and we have sent 225 to the US. Three quarters of these related to non-criminal acts. alleged crimes that are mostly white. the neck of crime.
"At the heart of the extradition treaty lies a fundamental injustice and this was demonstrated by Anne Sakoulas' refusal to appear in court for the murder of Harry Dunn."
MPs Haltemprice and Howden said many extraditions to the UK have had "unfair repercussions" in the US, adding: "It's important to get it right. Will the Prime Minister review this treaty to correct this farce of justice?"
Rishi Sunak replied: "It is clearly in our national interest to have effective extradition reporting and under the agreement we have with the US we have ensured the extradition and subsequent prosecution of terrorists, murderers, rapists and pedophiles."
"I would like to meet with him to discuss this matter further. As you know, I believe the United States has denied one extradition request from the United Kingdom and the United Kingdom has denied 27 extradition requests, but I know he is concerned and I would be happy. to meet with him to discuss further.'
The Liberal Democrat leader speaks about a woman who died after being taken to hospital due to ambulance delays
12:54 , Lydia Chanteler Hicks
Liberal Democrat leader Sir Ed Davey has told the story of a woman who passed out in an emergency room and died after being taken to hospital after an ambulance was late.
Sir Ed told the Commons: "When Jane called 999 she was told she would be waiting at least eight hours for an ambulance. So she got in the car and drove to Eastbourne District Hospital."
I paid for parking and made it to the emergency room entrance, where I collapsed. Geno died an hour later.
"No one should lose their mother or grandmother like this. Should the Prime Minister apologize to Jane's family and all those who have lost loved ones to the appalling delays in state ambulances?
Rishi Sunak replied, "Of course my thoughts are with Jane and Jane's family for what happened. It is absolutely right that we continue to make strides in improving A&E's performance.'
"We've outlined plans for this over the past month and I'm pleased to say we're seeing better performance, whether that be in ER or ER wait times, a fairly noticeable improvement in the last few weeks after pressure spikes. that we saw in the winter with covid and flu.
The Prime Minister refuses to say whether Mo Farah will be deported from the UK under the new rules
12:58 , Lydia Chanteler Hicks
When asked, the prime minister did not say whether Olympian Sir Mo Farah would be deported under the new asylum plans.
Imran Hussain, Labor MP for Bradford East, said: "Under the government's pathetic new far-right anti-refugee bill, those entering the UK illegally are still being deported.
"Could the Prime Minister clarify whether Sir Mo Farah, who gallantly revealed last year that he was smuggled into the UK as a child, has been deported under this law?"
Rishi Sunak said: "It is precisely because we want to help the world's most vulnerable that we must prevent our system from being exploited and overburdened by illegal migrants who are smuggled here by criminal gangs.
"There's nothing pitiful, there's nothing fair about lobbying to preserve this system, so our new laws are the right way to deal with this problem."
Dover MP urges PM to ensure France does more to tackle migration crisis
13:04 , Lydia Chantel Hicks
Conservative MP Natalie Elphick has urged the Prime Minister to do more on the French side of the canal to prevent asylum seekers from crossing in small boats.
Highlighting the Prime Minister's work on "tackling illegal immigration", the MP for Dover asked: "The Prime Minister will meet President Macron this week.
He asked: "Can I ask you to find out what else can be done to deal with illegal immigration drivers around small boats, particularly those who are pushing those boats around the French coasts and those boats from the push French coasts into the French sea? "
Rishi Sunak said: "There is no single lever that will solve this problem and it is right that we are working on different things that will make a difference, including working closely with the French."
He clarified the cooperation agreement with France, adding that he hopes "to strengthen this cooperation and to contribute to this discussion on Friday".
15:58 , Matt Watts
That concludes our political blog coverage for today.
PMQs: Rishi Sunak should apologize for 'deadly mess' with ambulance wait times, Starmer asks