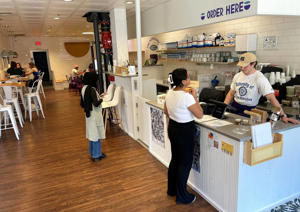 © Tammy Grubb/The Herald-Sun/TNS After Longfellow Real Estate Partners acquired the building on W. Franklin St. in Chapel Hill. At 306, the Purple Bowl has become a loyal and diverse customer base to stop what appears to be a move.
A life sciences project that has sparked a campaign to save a popular restaurant could create the tallest building in downtown Chapel Hill and involve more land than expected, a city advisory board found Tuesday night.
The proposed Chapel Hill Life Sciences Center would add approximately 320,000 square feet of laboratory, office and retail space at 306 W. Franklin St. The project could include storefronts on West Rosemary Street and a 320-space parking garage.
The building will be on the lower Franklin Street elevation and will be 150 to 160 feet tall, project officials said. The lab space includes a 20-foot mechanical ceiling, making it the tallest building downtown.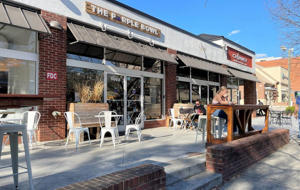 ©Tammy Grubb/The Herald-Sun/TNS In 2022, Purple Bowl owners Taylor and Paula Gilland expanded into the nearby commercial space and attempted to purchase the building from the owner. They lost the bid to Longfellow, who paid $13.2 million for the building and four other lots, documents show.
A wet lab and office building permitted on the hill at the east end of Rosemary Street may be 140 feet including a mechanical attic. It's five feet taller than Greenbridge's controversial 601 W. Rosemary St. in 2007 and 35 feet taller than the 140-unit West Franklin, which opened in 2013.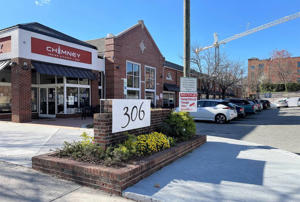 ©Tammy Grubb/The Herald-Sun/TNS Texas developer W. Franklin St. Built a 140 x 150 foot biology center at 306 Chapel Hill.
Boston-based Longfellow Real Estate Partners paid $13.2 million last year to buy the five lots that make up the project site, county records show. The land includes three parking spaces and a fifth third bank, which is not part of the redevelopment.
It will replace a 1/2-story building that houses several businesses, including Blue Dogwood Public Market Food Hall, Chimney Indian Kitchen and Bar and Purple Bowl.
Chapel Hill, a startup accelerator and co-working space founded by UNC, the city and Orange County, will move from the building to a new innovation center at 137 E. Franklin St. in February. and 136 E. Rosemary St. He has moved.
Another longtime company, the Bicycle Network, could also be added to the mix, creating a 2.23-acre project site, the Community Planning Commission learned Tuesday. Greg Capps, chief executive officer of Longfellow Real Estate Partners, is in talks with the store's owner, who lives in Carrboro, but no deal has been reached yet.
The council will be able to review the concept plan on March 22 and provide feedback that will be used to prepare for formal action.
The council is to redevelop the City Center 3 site to accommodate a taller, more residential building. Traffic, parking and stormwater can be significant issues as the site is prone to flooding.
Save the Purple Bowl campaign.
After Longfellow announced the project in November, Purple Bowl employees and fans flooded the city with letters and phone calls hoping to save the company.
In an interview with The News and Observer last year, owner Taylor Gilland said he and his parents knew the owner wanted to sell and had offered to buy the building last year and were looking for a $500,000 expansion on an adjacent lot that closed.
Gilland, who founded the business with his parents in 2017, has talked with Durham investors and brewers about adding a beer garden and 10,000 square feet of space. He said they reached out to Longfellow about their options over the summer and received multiple responses. They were surprised when the project was announced in November.
Gilland told commissioners Tuesday that Chapel Hill's "college town charm" is something that I think other cities are doing their best to achieve and that everyone across the country is talking about.
"If they had, I think they would have protected him and fired him," he said. "Over the past five years, we've thrown away the reputation and character of Chapel Hill … instead of investing in older buildings."
His mother, Paula Gilland, was joined by about a dozen other presenters, including Purple Bowl staff, UNC residents and students, athletes and alumni.
UNC graduate Varun Jain said he grew up in Singapore and Australia, but was overseas for the Purple Bowl.
"If Chapel Hill continues to be a growing destination that draws people from across the state, the country and the world, businesses and organizations like the Purple Bowl will bring that feeling to life, and a small town like Chapel Hill. It really is. "community and have a personality that I think is unique to a lot of other places," Jane said.
Lanier Hodgson joined her husband Scott and their young children on screen for a virtual reunion. As Hodgson talked about the importance of small businesses to families visiting the city, his daughter Bailey waved and sang "Purple Bowl!" the song. He smiled widely as he stopped whispering.
"If the city of Chapel Hill is going to continue to build what makes this city special, we have to maintain the best brand, and this is where we build community, and that's what this Franklin Street will do," Hodgson said.
City Hall reacts to Longfellow's project
While there was "extraordinary emotion on the part of various people," CDC Chairman John Weiss said the commission only looked at the design of the project, not the use of the building. He later asked the developer to take note of the comments.
"You have to look at the people who have expressed their appreciation for using it and what it means to Chapel Hill," Weiss said.
Other commissioners asked many questions, but few commented, citing a lack of information about parking in some cases and the possibility that could change if a developer buys the bike chain property.
Commissioner Megan Patnaik wanted to know how the project would reflect the Franklin Street community and its voice.
"I hear the Lab and Rosemary on Franklin Street are going to build, I think it makes sense, but it's a small place for people to eat and drink," he said.
The site was chosen for its size, which is rare in downtown Chapel Hill, and because it offers the opportunity to create a public space unavailable on the city's west end, said project architect Michael Stevenson. Senior project manager Nathan Zeidler said the team is working to reduce the building's visual impact.
Commissioner Ted Hoskins is reviewing the project, but suggested the developer reconsider some of the suggestions made by Planner Brian Peterson, such as: b. Divide the building into two parts and reduce the visual impact of the project.
Longfellow should consider relocating existing tenants, not putting them out of business, Weiss said.
"The thing is, you're basically looking at a zoning change here, and the city can ask you to do something like that in lieu of a zoning change," Weiss said.
The anxiety over the Purple Bowl means more than a loss of business, Taylor Gilland told the N&O when asked if city leaders are more financially motivated than residents would like.
"I think there's a lot of frustration downtown with the pace of commercial development in the Chapel Hill community," Gilland said. "We're moving from a nice little downtown to a corporate development with plenty of space in the new buildings that are now open."
UNC Startups, New Businesses
In the last decade, two- and three-story buildings in Chapel Hill have been replaced by tall buildings. The city has focused on creating more work and residential spaces downtown, created in part by UNC startups that need space to grow.
Charlotte-based developer Grubb Properties is renovating the former CVS building downtown on East Franklin Street at 150 E. Rosemary St. St. construction can begin as soon as the parking lot is completed.
The Grab projects are part of Innovation Hub's partnership with UNC-Chapel Hill and the Innovate Carolina program, which provides local entrepreneurs and startups with business accelerators, access to talent and prospective investors, and other development services.
Michelle Bolas, UNC's chief innovation officer and chief executive officer of Innovate Carolina, told The N&O last year that the center could serve 400 UNC-affiliated startups.
Relocation or Closure Decision
City officials say Chapel Hill's downtown business district has a long history of losing revenue due to high land prices, high rents and a lack of year-round residents and customers. But new businesses want to move downtown, which has 200 street shops, said Matt Gladek, executive director of the Chapel Hill Downtown Partnership.
Gladek and Mayor Pam Hemminger told the N&O they have made offers to help businesses at 306 W. Franklin St.
"It's scary when you think about moving your business, but increasing the number of businesses and workers downtown will help build a more sustainable economy and help everyone prosper," Hemminger said.
"I know they're upset, but they knew it was coming, and it's a two-year window of opportunity, so we have plenty of opportunities to help them move to a new location downtown or learn how to do that." "The change will be built and come back during the construction," he said.
Paula Gilland said there are many options for relocation, including the UNC-owned store at 122 E. Franklin St. He said the timing was wrong for the space that formerly housed Benny's Cappella Pizzeria.
Another commercial space has yet to be approved on the ground floor of Grubb Properties' seven-story Rosemary Link apartments. Paula Gilland also said they felt uncomfortable taking the seat because it could have been reserved for a minority company.
©2023 Raleigh News and Observer. Visit newsobserver.com. Distributed by Tribune Content Agency, LLC.
YaleAREA 2022 conference – Panel. Life Sciences, Real Estate Development 101 College St., New Haven