Rishi Sunak will arrive in Bali later for the G20 summit but will speak to reporters on board about a deal announced this morning with France to strengthen cooperation against people using small boats to cross the strait. . This is the story of my colleagues Jessica Elgott (with Sunak) and Peter Walker.
RELATED : More guards promised as UK and France sign English Channel agreement to curb migration
"Nothing will solve the problem of small boats," Sunak told reporters, "but we can definitely reduce their number over time."
But the government did not say what changes the deal announced today with France will bring. Secretary of State James Cleverley was interviewed this morning and asked questions about this. He said that working with France on today's program made a big difference and 29,000 people were unable to travel to the UK this year, twice as many as in previous years. But when TODAY's Mishal Hussain asked him how the new deal would affect the number of passports ("I'm sure you have a way to measure it," he said optimistically), Smart declined to give a number. And he answered.
It is very important that you understand that we are dealing with an evolving situation… Predicting the exact numbers is very, very difficult. It depends on many variables, but the main thing is that we are cooperating more closely [with France] … more French officers on the coast as a result of the agreement signed today by the Minister of the Interior and the French Minister. interior.
I recently published this interview.
Here is today's agenda.
11.30 a.m .: Downing Street briefing in the lobby.
12:45 pm : Equality Secretary Michael Gove presents Margaret Thatcher's Progress Lecture at the Center for Policy Studies.
14:30: City inquiries to the Ministry of Internal Affairs.
4:00 pm: Secretary of State James Aguilar presents evidence to the House of Commons Foreign Affairs Committee.
Try to subscribe to comments below the line (BTL) but not all will be read. If you have a direct question, write the word "Andrey" somewhere, and they will most likely find it. I'll try to answer the question, and if it's of general interest, I'll post the question and answer above line (ATL), though I can't promise to do so for everyone.
If you want to get my attention quickly, maybe using Twitter is a good idea. I'm at @AndrewSparrow.
Alternatively, you can email me at andrew.sparrow@theguardian.com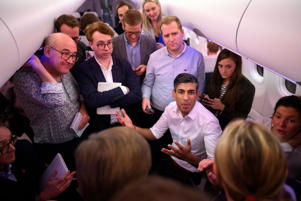 © The Guardian Posted by Rishi Sunak speaking to reporters on a flight to Bali. Photo: Reuters
Cost of Living: The Secretary of State backtracked on his commitment to double pensions.