Coffee connoisseurs looking for a combination coffee grinder, the Goudveer F1 Coffee Grinder is a companion that understands the art of coffee making. Whether you're cozy in your kitchen or exploring the great outdoors, this grinder is designed to bring out the best in your beans, ensuring that every sip is a testament to your love for coffee.
The Goudveer F1 features dual grinding modes. You can choose the electric mode for a quick and efficient grind when you're short on time. But if you're in the mood to immerse yourself in the process, the manual mode offers a hands-on experience that adds a personal touch to your preparation. Both modes are crafted to deliver consistency, which is crucial for extracting the full spectrum of flavors and aromas from your coffee.
Early bird bargains are now available for the fresh project from roughly $89 or £72 (depending on current exchange rates). At the heart of the Goudveer F1 is a 5-Star Alloy Conical Burr, a marvel of engineering that guarantees uniform grinding. This consistency is what allows you to experience the rich, complex flavors that coffee aficionados strive for, no matter if you're making a robust espresso or a delicate pour-over.
Customization is key with the Goudveer F1. It features an impressive 100-level adjustment knob, giving you the power to fine-tune the coarseness of your grind. This level of control is essential for matching the grind to your brewing method, whether you need a fine powder for a potent espresso or a coarser texture for a traditional French press.
Coffee grinder
One of the most convenient features of the Goudveer F1 is its extended battery life. The built-in rechargeable battery can support 35-50 grinding cycles on a single charge, which means you could go a whole month without needing to recharge. This reliability ensures that your grinder is always ready to go, making your coffee routine that much simpler.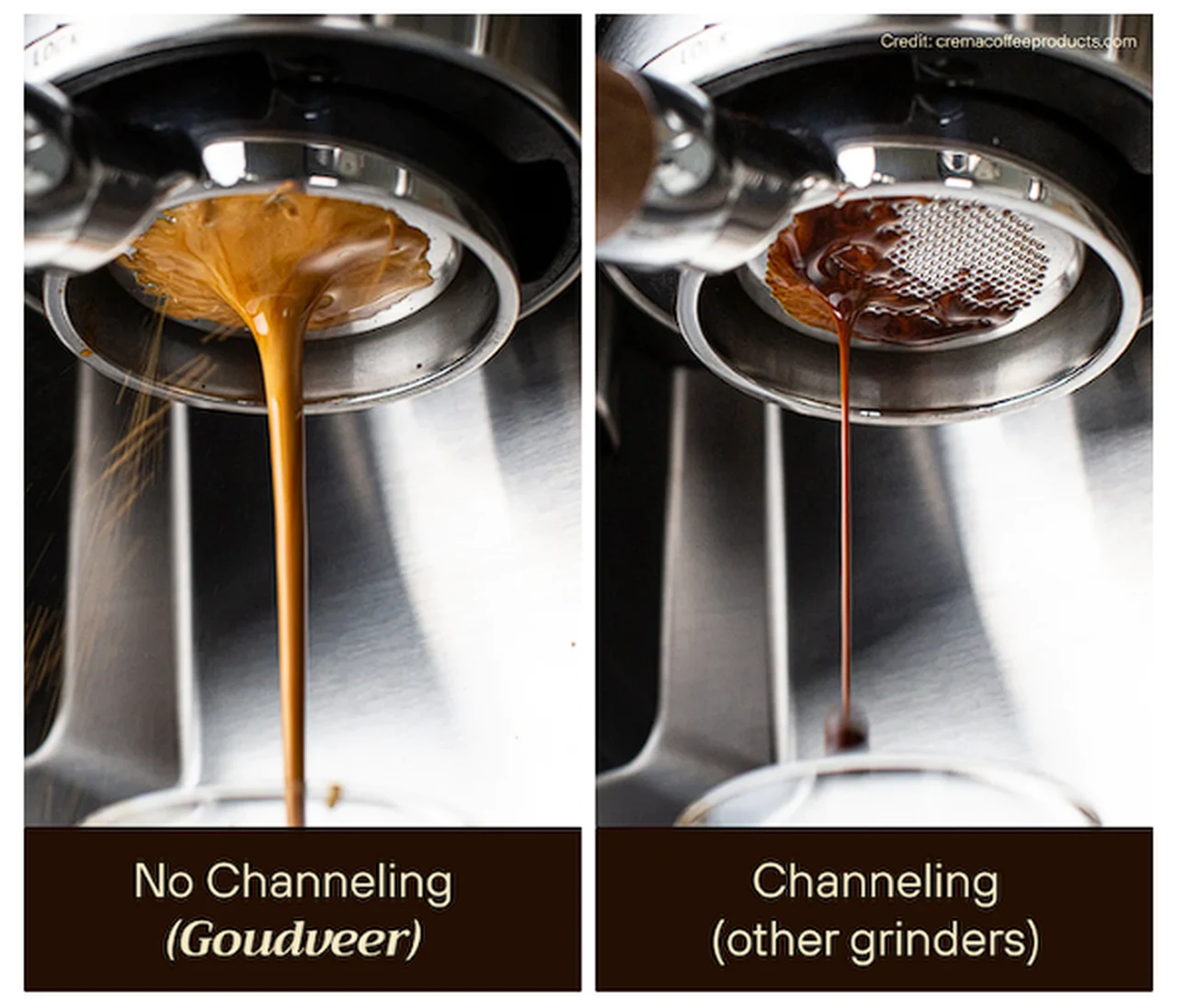 For those who love to travel, the Goudveer F1's compact size and battery-powered operation make it the ideal travel companion. Its portability means you don't have to compromise on quality, no matter where your adventures take you. But the Goudveer F1 is more than just a grinder; it's a gateway to a variety of brewing styles. It comes with recommended settings for everything from the fine grind needed for Turkish coffee to the coarser grounds suited for cold brew. This versatility ensures that you can enjoy your favorite coffee style wherever you are.
Assuming that the Goudveer F1 funding campaign successfully raises its required pledge goal and production progresses smoothly, worldwide shipping is expected to take place sometime around April 2024. To learn more about the Goudveer F1 manual and electric coffee grinder project watch the promotional video below.
Durability is also a hallmark of the Goudveer F1. Made from premium 420 stainless steel with a Rockwell hardness of over 50 HRC, it's built to withstand daily use and keep enhancing your coffee experience well into the future. The designers of the Goudveer F1 paid special attention to reducing coffee residue. This means that every grind is as fresh as possible, allowing you to get the most flavor out of your beans, reducing waste, and ensuring a consistently delicious taste.
Additional thoughtful features include an even grind delivery to prevent channeling, which is particularly important for espresso and pour-over brews. For those who prefer manual grinding, there's an optional hand crank accessory. The grinder is designed to be user-friendly and low maintenance, focusing on providing a smooth coffee grinding experience.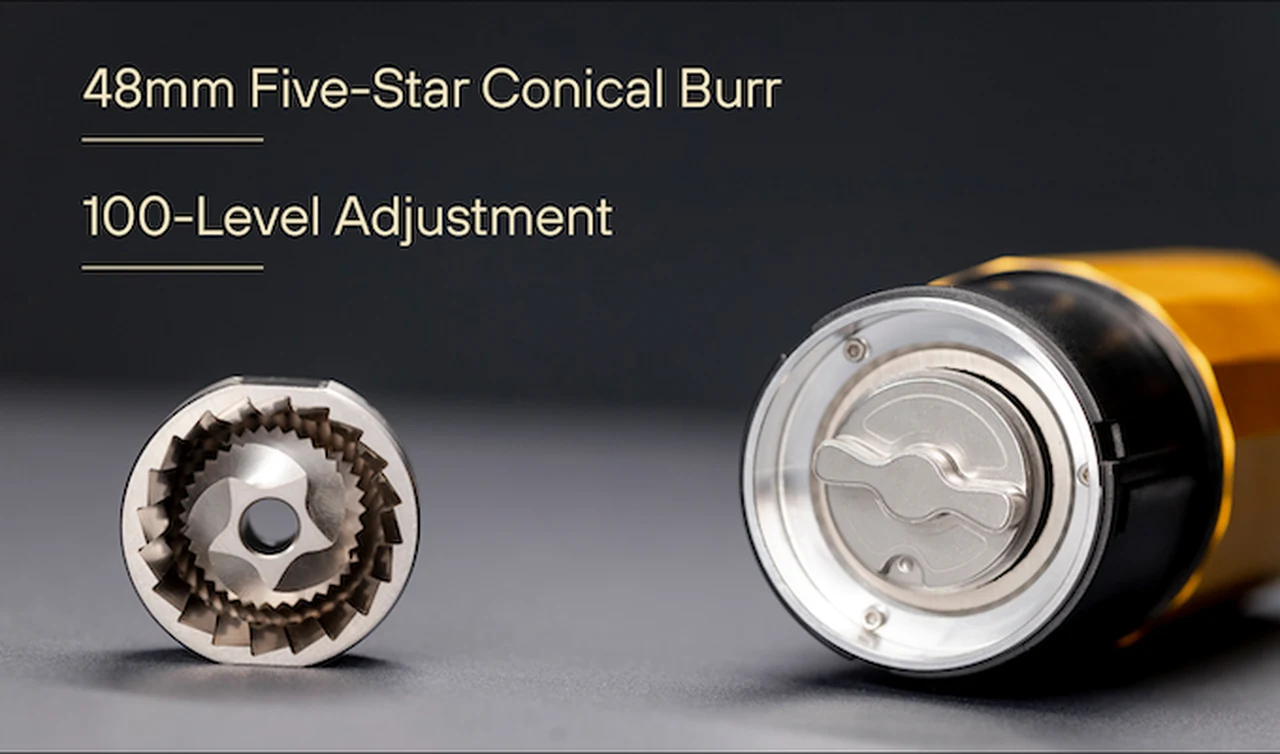 The Goudveer F1 Coffee Grinder is a testament to grinding efficiency, precision, and durability. It's an essential tool for anyone serious about their coffee, whether you're at home or on the go. With its customizable settings, long-lasting battery, and intuitive design, the Goudveer F1 is poised to become the go-to grinder for coffee lovers everywhere. It's not just about making coffee; it's about elevating your coffee experience to new heights, no matter where you find yourself.
For a complete list of all available project pledges, stretch goals, extra media and feature breakdown for the manual and electric coffee grinder, jump over to the official Goudveer F1 crowd funding campaign page by navigating to the link below.
Source : Kickstarter
Disclaimer: Participating in Kickstarter campaigns involves inherent risks. While many projects successfully meet their goals, others may fail to deliver due to numerous challenges. Always conduct thorough research and exercise caution when pledging your hard-earned money.
Filed Under: Design News, Top News




Latest timeswonderful Deals
Disclosure: Some of our articles include affiliate links. If you buy something through one of these links, timeswonderful may earn an affiliate commission. Learn about our Disclosure Policy.