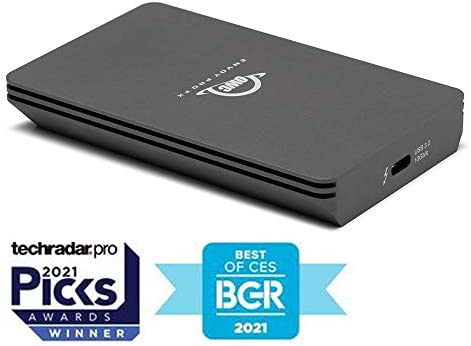 Do you close your eyes when someone asks you if you have backed up your data? Many people think that backing up data is something other people should do, but it's not something they should worry about. But take it from me. Your hard drive will fail someday. When that happens, you'll be on your knees praying to the gods of technology knowing that all of your precious data could be gone forever.
I back up my work several times a day and use a varying number of disks, so I always get stuck if an iMac disk fails. If you don't have an external hard drive to back up your data, buy one now! There can be no excuses. Get used to making backups. If you're on a Mac, get backup software like Belight's Get Backup Pro. It is inexpensive and worth every penny.
Advertising
When it comes to external storage drives for backup, the new OWC Envoy Pro Mini is a convenient solution as it can be used with a variety of devices. It's a pocket-sized SSD, which means it's fast and can deliver the performance you'd normally expect from a full-size SATA drive. It is suitable for storing all kinds of data.
The OWC Envoy Pro Mini works with Macs, PCs, iPads, Chromebooks, Android tablets, and Surface devices manufactured in the last 15 years with USB A and USB C/Thunderbolt. The drive is available in 250GB, 500GB and 1TB capacities and offers an actual transfer speed of 946MB/s.
Advertising
In addition to serving as a standard data backup drive, OWC Envoy Pro Mini can be used to run the operating system and applications on a remote machine. It's ideal for backing up critical data like business presentations, a 24-track recording session, or movie playback on a Smart TV.
Using the Envoy Pro Mini in a hybrid environment for Mac and Windows is easy with OWC's MacDrive software (sold separately). MacDrive runs in the background, so there's nothing to get started or learn. Connect the Envoy Pro mini to get quick read access and full write access. In addition, MacDrive offers powerful formatting and partitioning features and can be used to fix basic disk issues.
Advertising
Verdict : This handy pocket is versatile with USB A and USB C connections. It's fast and quiet, and comes with a lanyard so you can keep it close at all times. With the ability to work with both USB and Thunderbolt interfaces, the OWC Envoy Pro Mini can work with any device, including the iPad Pro. It is highly recommended.
Pricing and Availability: The OWC Envoy Pro mini is available in 250GB, 500GB, and 1TB capacities at Macsales.com, starting at $79.
More information: www.owc.com
Advertising
Main features:
harmonic USB or Thunderbolt (USB-C) ports on Mac, PC, iPad, Chromebook, Android tablets, and Surface devices.
Apple's Time Machine and Windows File History ready.
Compatible with PlayStation and Xbox.
Self imposed.
Slim design to ensure access through adjacent ports.
pocket size.
Aluminum body heat sink.
3 year limited warranty on OWC.
The Envoy Pro mini is the best portable SSD that fits in your pocket.