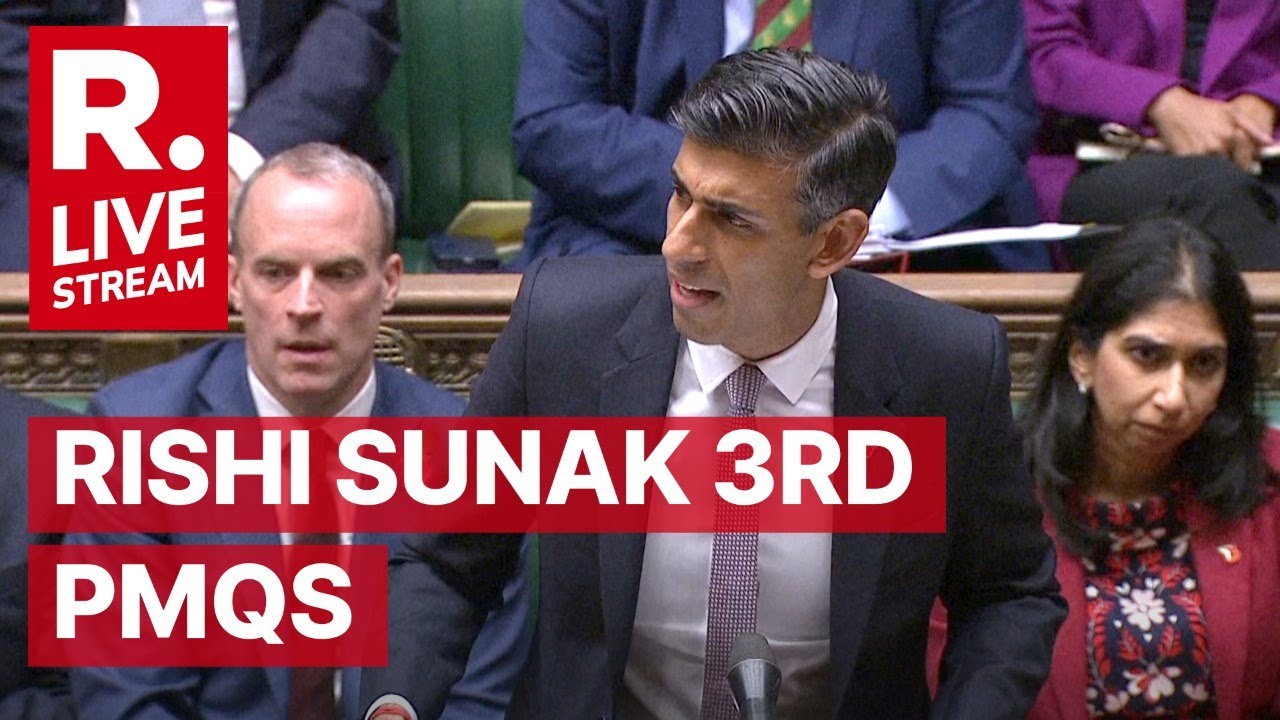 Rishi Sunak warned in the Prime Minister's Questions that "hardline" Conservative MPs could block efforts to secure a post-Brexit trade deal in Northern Ireland.
Labor leader Keir Starmer has warned that rebel MPs will not accept the deal unless there is a role for the European Court of Justice in Northern Ireland.
"So the prime minister is going to be honest with them and say it's not going to happen?" asked Mr. Starmer.
Sunak responded that Starmer was talking about a deal that he "hasn't even seen, that we're still discussing, that hasn't been completed yet."
Sunak hopes to secure a deal that will convince the United Democratic Party (DUP) to re-share power in Stormont and avoid a cabinet and MP revolt.
Speaking on Sky News, Veterans Affairs Minister Jonny Mercer said Sunak "voted for Brexit and campaigned strongly so he won't sell anyone out or offer an unfair solution."
It comes after ministers agreed to continue "intensive talks" with nurses over pay and conditions after unions agreed to end a 48-hour strike next week.
The Royal College of Nursing is demanding a pay rise of 5 per cent above inflation, but has said it will start talks that reportedly could include possible compromises on agreed pay figures for this year.
Rishi Sunak talks with Ursula von der Leyen
1:04 p.m. , Sarah Harvey
Rishi Sunak spoke to European Commission President Ursula von der Leyen about the Northern Ireland protocol and will hold further talks in the coming days, Downing Street said.
The Prime Minister's official representative said the call was made on Tuesday night.
"The leaders discussed the good progress made in the negotiations. Intensive discussions continued. They agreed to speak again in the next few days," the spokesperson said.
Later on Wednesday, Mr. Sunak will speak virtually with a Northern Ireland company representative.
Sunak: I have heard the DUP's concerns about the Northern Ireland deal
12:37 , Josh Salisbury
Sir Geoffrey Donaldson of the United Democrats told Risha Sunac it was "unacceptable" to have protocols in Northern Ireland that would "undermine our position in the UK".
He asked Mr. Sunak: "Does the Prime Minister agree how important it is to get a resolution of constitutional and democratic issues?"
"Do you agree with me that it is unacceptable to apply EU law in Northern Ireland without democratic control or approval?
He asked the Prime Minister to commit to rewriting legally binding agreements into every deal negotiated.
"I've heard loud and clear that he wants and needs this issue to be a foundation for working with others to restore the separation of powers, and I know that to be true," he said. Altar.
And he added: "I can assure you that I agree that the elimination of the democratic deficit is an integral part of the ongoing negotiations with the European Union."
Starmer accused Sunak of being cowardly against eurosceptic conservatives
12:27 Josh Salisbury
Labor Keir Starmer accused Rishi Sunak of not having the courage to challenge "disgruntled and reckless violence" in Conservative ranks.
"I'm here to tell you not to worry about it because we are going to put country before party and make sure the Labor vote is successful," he said.
"You should accept our offer, ignoring the angry cries of those around you, who never take no for an answer. Why don't you just do it?
Sunak said he was listening to people in Northern Ireland and accused Sunak. Starmer always has the right to change his mind.
Sunak said Starmer "will not defend Britain" over Brexit
12:19 Josh Salisbury
Rishi Sunak accused Labor Keir Starmer of "wanting to put the EU first" in his proposed approach to the Northern Ireland deal.
"On this issue, he said he would respect the results of the referendum and then promised to support the second one.
"The whole time he kept voting to destroy Brexit. I know what the British know: he cannot be trusted to defend England on this matter."
To applause from the Conservatives, Starmer replied: "Mr. President, the sound you hear is the Prime Minister clapping her hands while raising the noodles to her ears."
Starmer warned that "hard-line" Tories would not accept the deal
12:15 , Josh Salisbury
Labor Keir Starmer has warned Rishi Sunak that "hardliners" in the Conservative Party will not accept a deal if there is no European Court of Justice seat in Northern Ireland.
"So the prime minister is going to be honest with them and say it's not going to happen?" – asked.
Sunak responded: "For [Mr. Starmer] to talk about an unfinished deal that he hasn't seen, that we're still negotiating… that's his usual position when it comes to the EU. He gave the EU full rights and agreed to everything they proposed.
"This is not a strategy, this is surrender."
Sunak declined to say whether Northern Ireland would continue to comply with any EU legislation under the deal.
12:11 , Josh Salisbury
Keir Starmer has accused former Prime Minister Boris Johnson of talking "bullshit" about Northern Ireland's protocol, saying he has failed to deliver on promises of "forms, checks, barriers".
He asked Sunak to confirm whether the deal would continue to allow Northern Ireland to comply with some EU laws.
Mr. Sunak responded: "[Mr. Starmer] ran forward. We are still in intensive negotiations with the European Union… I fully understand what is needed and I will keep fighting until we get it."
Sunak: Northern Ireland deal must meet 'Conservatives, Brexit and Unionists' demands
12:08 Josh Salisbury
Labor leader Sir Keir Starmer began his questions to the President. In response to questions about Northern Ireland's post-Brexit trade deals, Sunak asked if the Prime Minister accepted they were "poorly implemented".
Sunak replied: "We are still in active negotiations with the EU, but he needs to know that I am Conservative, pro-Brexit and pro-union and that any deal we reach must meet all three conditions.
"We need to secure Northern Ireland's sovereignty, protect Northern Ireland's place in our union and find practical solutions to the challenges facing people and businesses."
Sunak: We will continue our fight against violence against women and girls.
12:04 Josh Salisbury
Risha Sunaku's first question came from Labor MP Andrew West, who asked if the government was committed to a police response to any response to domestic violence.
Mr. Sunak responded: "We announced new measures this week to combat violence against women and girls… We will continue to do everything we can to ensure the safety of women and girls across the country."
Photo: Rishi Sunak ranks 10th in PMQ
11:45 a.m. , Josh Salisbury
Rishi Sunak will leave the 10th prime minister's seat in parliament, where he is expected to face questions over public sector wages and post-Brexit trade deals in Northern Ireland.
Brexit hardliners have been advised to "get real" during protocol talks.
11:12 , Josh Salisbury
Ministers have fired a warning shot at Brexit hardliners, telling them to "get into the real world" and stop "slaughtering" their party.
Veterans Affairs Minister Johnny Mercer has backed Rishi Sunak's efforts to strike a deal to end the deadlock on the Northern Ireland trade deal, insisting he has no intention of "betraying" anyone.
He added on Times Radio: "We have to operate in the real world. Rishi Sunak campaigned, voted and committed to Brexit.
"It feels like we're stuck in time, doesn't it? Because we're talking about the same things we've been talking about for five years. Let's give the Prime Minister a chance to speak, shall we? He attacks him. He did the best he could."
Defense Minister James Hippie has also called on Conservative MPs to give the prime minister a chance to conclude talks with Brussels.
Read our full story here.
Mercer rejected the defense secretary's claim that the military was underfunded.
10:21 Josh Salisbury
Veterans Affairs Secretary Johnny Mercer has stepped up his involvement in a standoff with Defense Secretary Ben Wallace over funding for the military, saying it is "absurd" to say they are being "retired."
When asked about Defense Secretary Ben Wallace's recent comments on defense funding, Mercer said he "doesn't buy the defense cut story," noting that defense spending has been huge. in recent years.
He suggested that cabinet ministers "stand up for" the Ministry of Defense (MoD) ahead of the March 15 budget, as recent statements suggest the UK military is under-resourced.
During a House of Commons debate last month, Wallace said he was "pleased to say we're sorry and we're short of funds."
It comes amid Britain's efforts to support Ukraine in response to an invasion by Russian troops and rising global tensions with China.
Blair and The Hague called for a digital ID card
09:30 , Josh Salisbury
Every citizen is to be issued a "digital identity card" as part of Sir Tony Blair and Lord Hague's "fundamental reshaping of the country around technology".
Blair's former prime minister and former conservative Labor Party leader in The Hague said the challenge of adapting to the new technological revolution meant putting aside party differences.
The plan is to include them on a new ID card that includes information such as a passport, driver's license, tax records, qualifications and employment eligibility that can be stored on a mobile phone.
In a joint article for The Times, they said: "Politics must change radically because the world is changing radically."
"We are living through the technological revolution of the 21st century, whose consequences are as great as the industrial revolution of the 19th century".
They warned that policymakers risked "fighting on the sidelines of 20th century tax and spending politics" rather than grappling with the fundamental changes needed in the new era.
The former Labor and Conservative leader said: "We both believe the task is so urgent, the dangers of being left behind so great and the opportunities so compelling, that a new understanding of national purpose across the political divide is needed."
The public sector pays for "difficult problems" with "difficult solutions".
08:27 , Josh Salisbury
The public sector wage debate is an "intractable problem" and "there are no free solutions," said a government minister.
Asked in the Radio Times whether the department's announcement of a 3.5% pay increase for police officers, teachers, nurses and other staff in 2023/24 could settle ongoing strikes, Cabinet Secretary Johnny Mercer said : "I think it is a difficult issue to resolve." .
"If you look at what's going on in the community that I represent in Plymouth, inflation is definitely the biggest problem. It drives prices up in all directions.
"As the Governor of the Bank of England has shown, if you reduce inflation by raising public sector wages, you enter an endless cycle where prices continue to rise.
"I will always advocate that people who work in my constituency get paid more when they work in the public sector.
But you have to do it in a balanced way. This is not a binary argument, there is no free solution."
Mercer said that "the easy option is to give in to everyone's demands, but then inflation will keep going up, prices will keep going up, and life will be hard."
Northern Ireland's Sunak deal 'won't sell anyone out'
08:16 , Josh Salisbury
Good morning and welcome to live coverage of today's political events.
Rishi Sunak is negotiating to resolve Northern Ireland's post-Brexit trade challenges.
Speaking on Sky News, Veterans Affairs Minister Jonny Mercer said the deal "won't sell anybody".
He said Sunak "had a good discussion with the European Union last week" and "interacted well with other parliamentarians."
He added: "Let's give the Prime Minister a chance to speak."
"He attacked him, he threw everything he could. You voted for Brexit and you are actively campaigning for it, right?
"So he is not going to sell out to anyone or offer a solution that is unfair or inconsistent with what he thinks about Brexit.
"I thought, let's give him a chance, let's give him a chance to figure it out, and then let's support him and work on all the other issues that we're facing as a country right now."
Asked this week if there was a deal, Mercer said: "I don't know, I hope so."