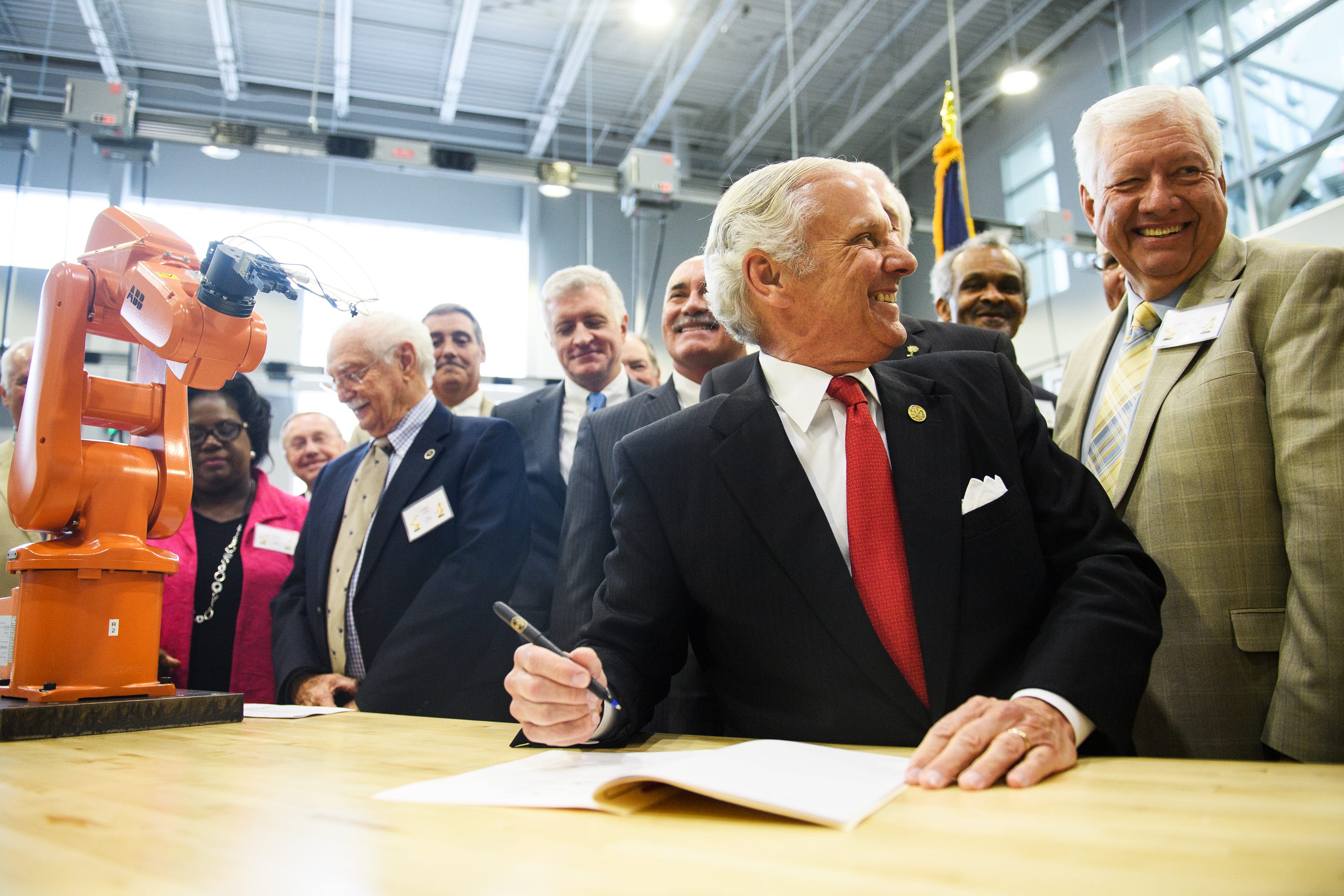 Greenville Technical College opened a nearly $70 million building dedicated to health, life sciences and education.
The dirt mound in the South Pleasantburg Drive parking lot is the proposed centerpiece of the proposed 125,000-square-foot three-story building, according to college president Keith Miller.
During the groundbreaking ceremony on Oct. 5, college leaders, along with Governor Henry McMaster, state and local officials, and Prisma Health officials, dug small mounds.
Planning started about 12 years ago. Its opening is scheduled for 2024.
Miller said students and campus visitors will be able to see "science in action" once the partially glass structure is complete.
In addition to the traditional classrooms, there will be rooms for medical imaging, ultrasound, radiology, etc. The anatomy lab will serve as a virtual cadaver, Miller said, using electronic autopsy tables with life-size touch screens.
The building will also house classrooms for general education courses. Miller estimates that about 90% of students will use the site. Outside the classroom, there will be areas such as meeting rooms, study rooms, and outdoor rest areas.
To deepen its longstanding partnership, Prisma Health System awarded the college $1.5 million to help cover construction costs and "strengthen health workforce development programs at Greenville Technical College," said Jonathan Gleason. , executive vice president and chief medical officer of Prisma Health. . .
It will be known as the Prisma Health and Life Sciences Building.
According to Miller, Prisma is the best employer for Greenville Tech students who become nurses, radiologists, physical therapists and other healthcare professionals.
Greenville Tech turns 60 this year and opened in 1962. It was the first technical college in the state, now joined by 15 other colleges across South Carolina.
Further work is planned. Last year, the college opened a Student Success Center. In the future, it is planned to reconstruct the buildings of the Faculty of Engineering and Technology of the University, which are already two decades old. Later, the medical building, the simulation and training technology center and the student building are rebuilt.
McMaster said the life sciences industry has a $12 billion impact on South Carolina, with more than 1,000 companies across the state employing about 30,700 people.
This summer, McMaster added $25 million to a scholarship program for employees of South Carolina's 16 technical colleges to provide opportunities for 40,000 state residents.
Follow Stephanie Mira on Twitter @stephaniemirah