Retired Canadian hockey player Theo Fleury criticized the National Hockey League (NHL) for politicizing the sport at Tucker Carlson Tonight.
Calgary Flames players responded to NHL Commissioner Gary Bettman and Vice President Kim Davis calling for more diversity and people of color in the game, along with a tweet from the league's official Twitter account: "Trans women are women. Trans men are men. – binary identity is real."
"Were racial politics a big part of hockey when you played?" asked host Tucker Carlson.
"No, my God, no," answered Fleury. "You know, I think the reason we're all interested in hockey is because it's fun. And secondly, no politics. You see, we do this sport because we really love it.
"For me personally, it was an escape from what was going on in my family life at the time. You know, I fell in love with the sport. You know, of course, I was very good at the field and continued my career in the outdoor game we usually play this, "he added.
Host Tucker Carlson wonders why so few athletes are talking about the politicization of sport.
READ ON THE FOX NEWS APP
DENNIS RODMAN ON CHINA'S NBA: "POLITICS DON'T JOIN SPORT"
"I think [it's] really because we're so divided, Tucker. Deep down, hockey players are, you know, compassionate, empathetic people; that's something we don't want to get involved in. C It's a disagreement that we can't win, you know," explained Fleury.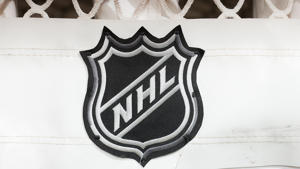 © Rich Graessle/Getty Images. A public view of the NHL logo behind the goal on April 24, 2022 at the Prudential Center in Newark, New Jersey. Rich Grass/Getty Images
The 1989 Stanley Cup winner said it didn't matter who played the sport as long as the players loved the game.
"It doesn't matter to us who plays this sport, whether you're transgender or gay or whatever. The reason we play this game and the reason it's so cool and cool is because it's for everyone." We play this game because it is an escape from what is happening in our lives," he said.
"Unfortunately, politics has no place in any sport, be it football, basketball, hockey [or] baseball. Politics should not be a part of any sport."
What happened to hockey?