Wouldn't it be great if you could have multiple cables in one, where tangled cords are a thing of the past, and where charging your phone, tablet, or laptop is as quick as a flash. This is the reality WEAST brings to the table with their innovative Zipper charging cable. This cleverly designed cable is transforming the way we power up our devices, making it an essential companion for anyone who relies on technology in their daily life.
The Zipper charging cable stands out with its unique design that resembles a zipper. This isn't just for show; it's a practical solution to the frustrating problem of tangled cables. With this design, you can easily keep your charging cables organized and ready to use without the hassle of untangling them every time you need to power up your devices. It's a small but significant touch that enhances your overall user experience. Limited early bird offers are now available for the imaginative project from roughly $28 or £24 (depending on current exchange rates).
But the Zipper charging cable isn't just about looks. It's a powerhouse when it comes to versatility. It comes equipped with a lightning connector for Apple iPhones, a wireless charging module for the Apple Watch, and a USB Type-C connector for Android devices, tablets, and modern laptops. This means you can leave behind the days of carrying multiple cables for different devices and move towards a more streamlined charging approach. The convenience of having one cable for all your charging needs cannot be overstated.
Charging and data cable
Speed is crucial in today's fast-moving world, and the Zipper charging cable understands that. With its 140W PD fast charging capability, you can quickly charge your devices, minimizing downtime and keeping you ready for whatever the day throws at you. This rapid charging feature is a lifesaver for those who can't afford to be tethered to a charging port for long periods.
The Zipper cable isn't just a one-trick pony; it's also a master of multitasking. While your device charges, the cable allows for the simultaneous syncing of files and backing up of data. This means you can be productive and efficient, managing your digital life without skipping a beat. The ability to charge and transfer data at the same time is a boon for anyone who values productivity.
Assuming that the Zipper funding campaign successfully raises its required pledge goal and manufacturing progresses smoothly, worldwide shipping is expected to take place sometime around February 2024. To learn more about the Zipper 3-in-1 charging cable project survey the promotional video below.
One of the most practical aspects of the Zipper charging cable is its ability to charge multiple devices at once. The zipper design allows the cable to extend in different directions, making it perfect for communal settings like offices or homes where several devices might need charging at the same time. This feature is a game-changer for families or teams who need to stay powered throughout the day.
Durability and environmental responsibility are at the heart of the Zipper charging cable's design. Made from high-grade, eco-friendly PVC with gold-plated connectors, the cable is resistant to corrosion and ensures a reliable connection. The adjustable length, which can extend from 1.1 to 2.2 meters, provides the flexibility to charge from various distances, accommodating your specific charging scenarios.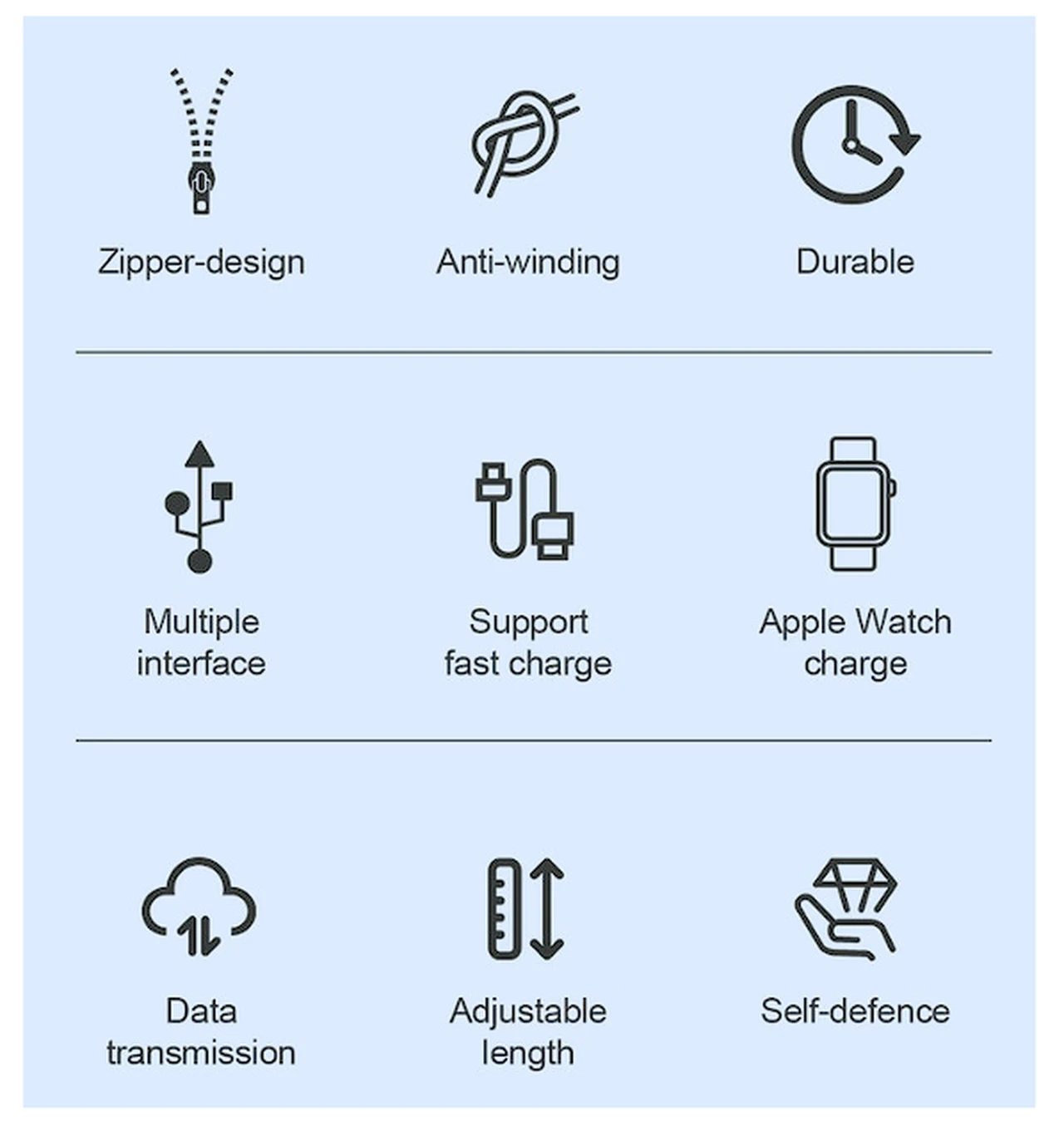 For those who love the great outdoors, the waterproof nature of the Zipper charging cable is a standout feature. It guarantees that your devices stay charged and safe from the elements, giving you the freedom to explore without worrying about your tech. Whether you're hiking, camping, or simply enjoying a day at the beach, the Zipper cable is designed to endure the adventures you embark on.
The Zipper charging cable by WEAST is more than just a cable; it's a robust, eco-conscious, and versatile ally for the modern tech user. Its distinctive design, fast charging capabilities, and compatibility with a wide range of devices make it an invaluable tool for anyone looking to improve their charging setup. Whether you're at home, in the office, or braving the outdoors, the Zipper charging cable is engineered to keep you powered and connected on all your journeys. With this innovative charging solution, WEAST is ensuring that staying charged is convenient, efficient, and hassle-free.
For a complete list of all available project pledges, stretch goals, extra media and more features for the 3-in-1 charging cable, jump over to the official Zipper crowd funding campaign page by visiting the link below.
Source : Kickstarter
Disclaimer: Participating in Kickstarter campaigns involves inherent risks. While many projects successfully meet their goals, others may fail to deliver due to numerous challenges. Always conduct thorough research and exercise caution when pledging your hard-earned money.
Filed Under: Gadgets News, Top News




Latest timeswonderful Deals
Disclosure: Some of our articles include affiliate links. If you buy something through one of these links, timeswonderful may earn an affiliate commission. Learn about our Disclosure Policy.