MSI has this month unveiled its latest professional business monitor in the form of the world's first 24.5 inch 100 Hz EyesErgo. The first of its kind, has been engineered with the intention of enhancing user experience, productivity, and comfort in the workspace. It is designed with a host of features that make it a standout choice for professionals seeking a more comfortable, productive, and visually pleasing workspace.
The PRO MP251 Series monitor comes with an optimal 24.5-inch screen size, which is considered ideal for office use. This size offers a delicate balance between spaciousness for work and conservation of desk space. In comparison to the 23.8-inch monitors, the PRO MP251 Series monitors provide more than 5% more display area, a feature that significantly reduces eye strain and enhances the visual experience.
Ergonomic design
The ergonomic design of the PRO MP251 is one of its most compelling features. This includes blue light reduction, flicker-free technology, and an innovative Eye-Q Check function. The blue light reduction feature minimizes the amount of harmful blue light emitted by the screen, reducing potential eye damage and fatigue.
Flicker free screen
The flicker-free technology, on the other hand, works hand in hand with the 100 Hz refresh rate to eliminate screen flicker. This results in reduced eye fatigue and improved comfort during long work hours, a feature that is crucial for professionals spending substantial time in front of their screens.
"The 24.5 inch PRO MP251 Series professional business monitor maximizes focus and saves space. EyesErgo technology nurtures well-being through reduced strain and ergonomic design. We are elevating visuals and productivity with seamless hardware and software integration and welcoming 100Hz of innovation to the future of work."
MSI EyesErgo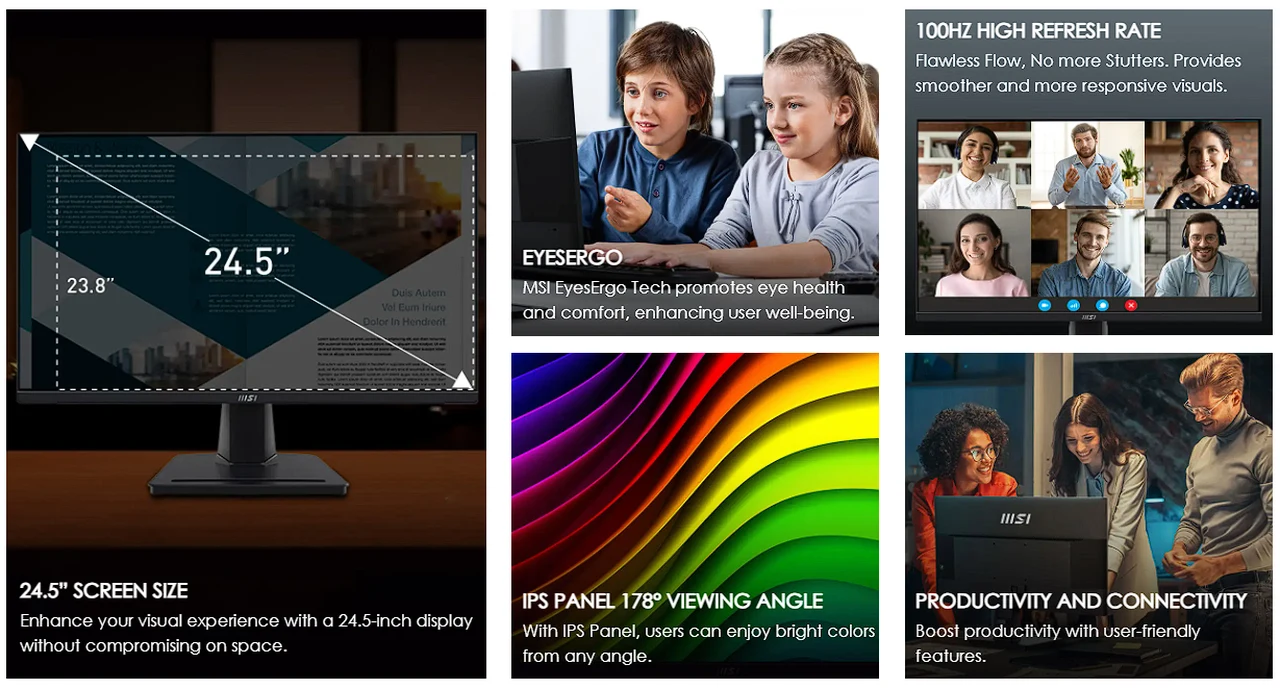 The Eye-Q Check function is a unique feature that sets the PRO MP251 Series apart. This function allows users to perform self-checks on their eyes to ensure optimal eye health. This is a proactive measure that ensures the users' eyes are not unduly stressed, contributing to the overall ergonomic design of the monitor.
Improve your productivity
The PRO MP251 professional business monitor is not only about comfort and eye-care, it also comes with a suite of productivity-enhancing features. These include an accessory slot on the stand, a Display Kit App, built-in speakers, and VESA wall-mount support. The accessory slot provides a convenient place to store small office items, helping to maintain a clean and organized workspace.
The Display Kit App allows users to customize their monitor settings for optimal performance, while the built-in speakers eliminate the need for external speakers, freeing up more desk space. The VESA wall-mount support offers flexibility in positioning the monitor, making it suitable for various office layouts.
The latest business monitor from MSI offers a blend of features that cater to both comfort and productivity. Its 24.5-inch screen size is optimal for office use, and its ergonomic design features, such as blue light reduction and flicker-free technology, enhance user comfort and concentration. The inclusion of the Eye-Q Check function and productivity-enhancing features further enhance its value for professionals and office environments. The PRO MP251 Series monitor is indeed a valuable asset for any workspace, designed to improve the user experience while also promoting eye health and productivity.
Source :  MSI
Filed Under: Displays News, Top News




Latest timeswonderful Deals
Disclosure: Some of our articles include affiliate links. If you buy something through one of these links, timeswonderful may earn an affiliate commission. Learn about our Disclosure Policy.